Fly Fishing The Texas Coast by Capt. Scott Null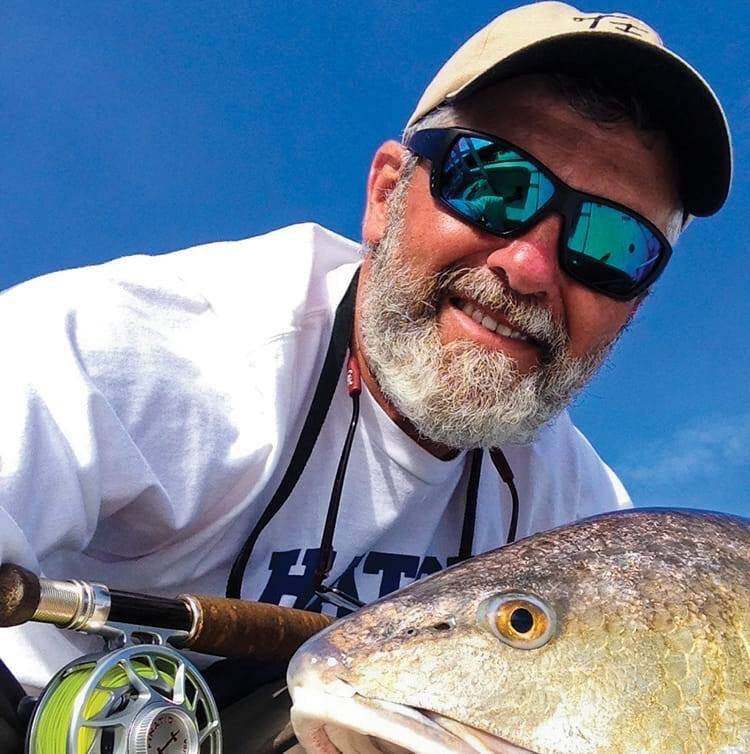 "So what's different about those other four months? Well it's really hot in the shallows leading to somewhat lethargic reds, it's summertime crowded on the flats and I'm honestly a little bit tired of doing the same thing every day. But most importantly, there are tarpon…along with kings, cobia, jack crevalle, tripletail, dolphin, bonito and Spanish mackerel to be had."
- Capt. Scott Null
When people talk about fly fishing along the Texas coast thoughts generally turn to redfish. It is perfectly reasonable to do so as reds are the most common and easily available targets for sight casting. They're also quite cooperative and tend to fall for a fake with gusto. For about eight months from mid-October through the first of June they are my main target on aboard the Sabine Skiff, but they aren't the only fish available.
While poling the shallows we'll also run across speckled trout, black drum, sheepshead and flounder. All are fair game on the fly and plenty sporty on appropriately sized tackle. I generally pick up my 8 wt paired with a Hatch 7+ loaded with a WF line. Every now and then we'll bump up to a 10 wt and Hatch 9+ if the oversized reds or black drum start showing up.
Pictured Right (Below on mobile devices): Trout and Red feeding on shrimp.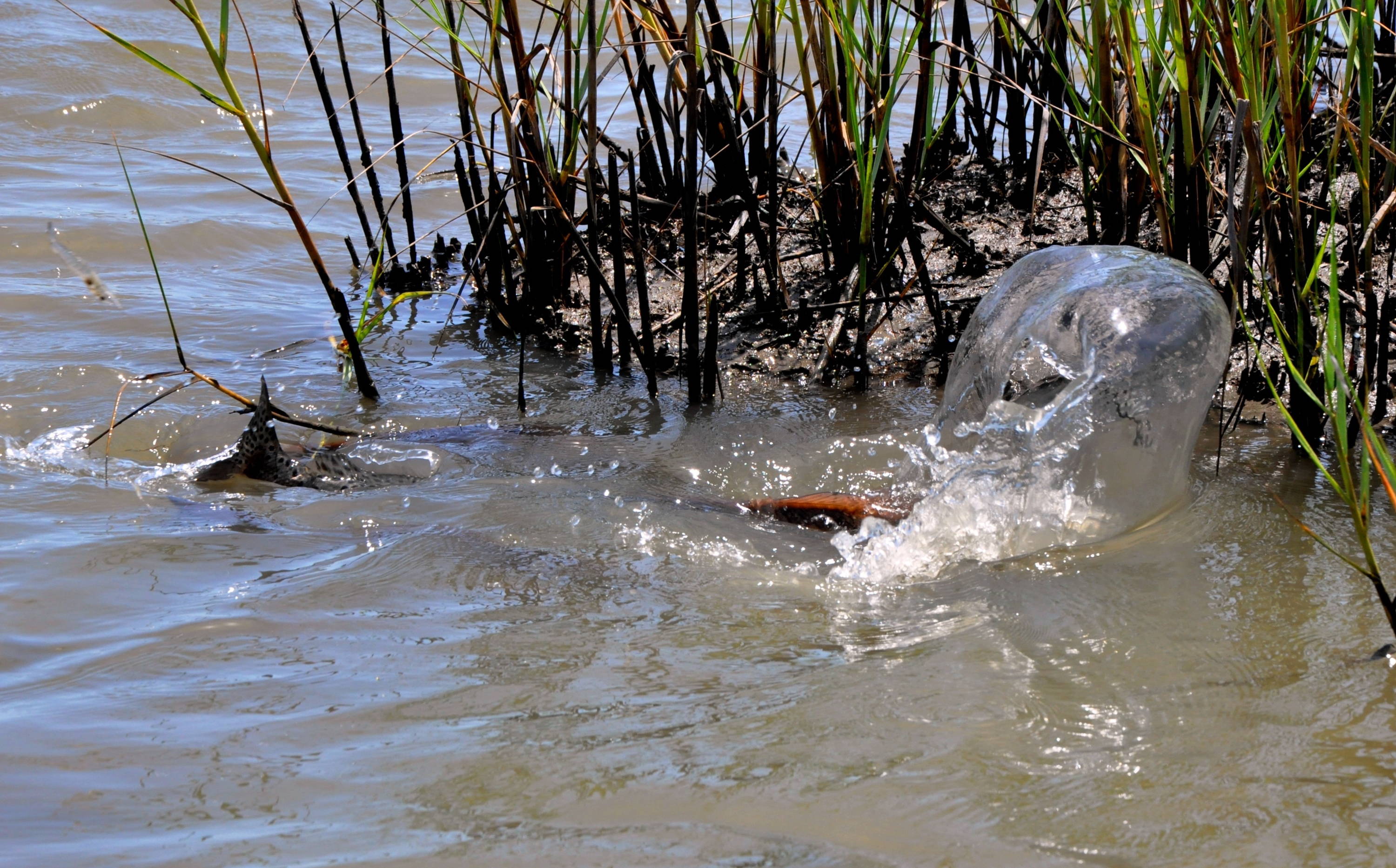 Speckled trout tend to be a target of opportunity while searching for redfish. My typical redfish fly is a size 4 Redfish Crack.  It's a nondescript pattern that can look like a shrimp, crab or even baitfish depending on how it is tied and how you retrieve it. On our shallow grass flats most of the trout we catch will be trailing behind a school of tailing reds eating leftovers. We can also pick up a few by blind casting into the many marsh drains along the shorelines. This tactic will also lead to the occasional flounder surprise.
Every once in a while we'll run across a large trophy trout lazily laid up in the seagrass with only inches of water covering her back. It is a sight that still takes my breath away no matter how many times it happens. Most often these fish are solitary females in the seven to ten pound range. They don't get this big by being dumb so chances are she already knows you're there before you spot her. Getting her to eat in this situation is tough, if not impossible. Your best bet if you want to target big trout is to wade a shoreline blind casting towards sandy potholes in the grass with a large Deceiver. It's a low percentage game, but it is awesome when it works.
Black drum come in two size ranges on our flats and back lakes. The smaller fish from two to ten pounds are often referred to as "puppy drum". We usually find them in the same areas as their close relative, the redfish. They'll often be in large scattered schools over mud or soft sand bottoms. The generally accepted choice of fly is something small and dark. I like a fly tied with rabbit fur, a little weight and a size 6 or 8 hook. They can be spooky and difficult. Cast well ahead of them and let them locate the fly. The less you move the fly the better, which is why I lean on rabbit. The slight breathing of the fine fur is just about right. But I've also caught them on a small pink Crazy Charlie stutter-stripped along the bottom when they're more actively hunting. You sometimes have to do a little experimenting with these guys.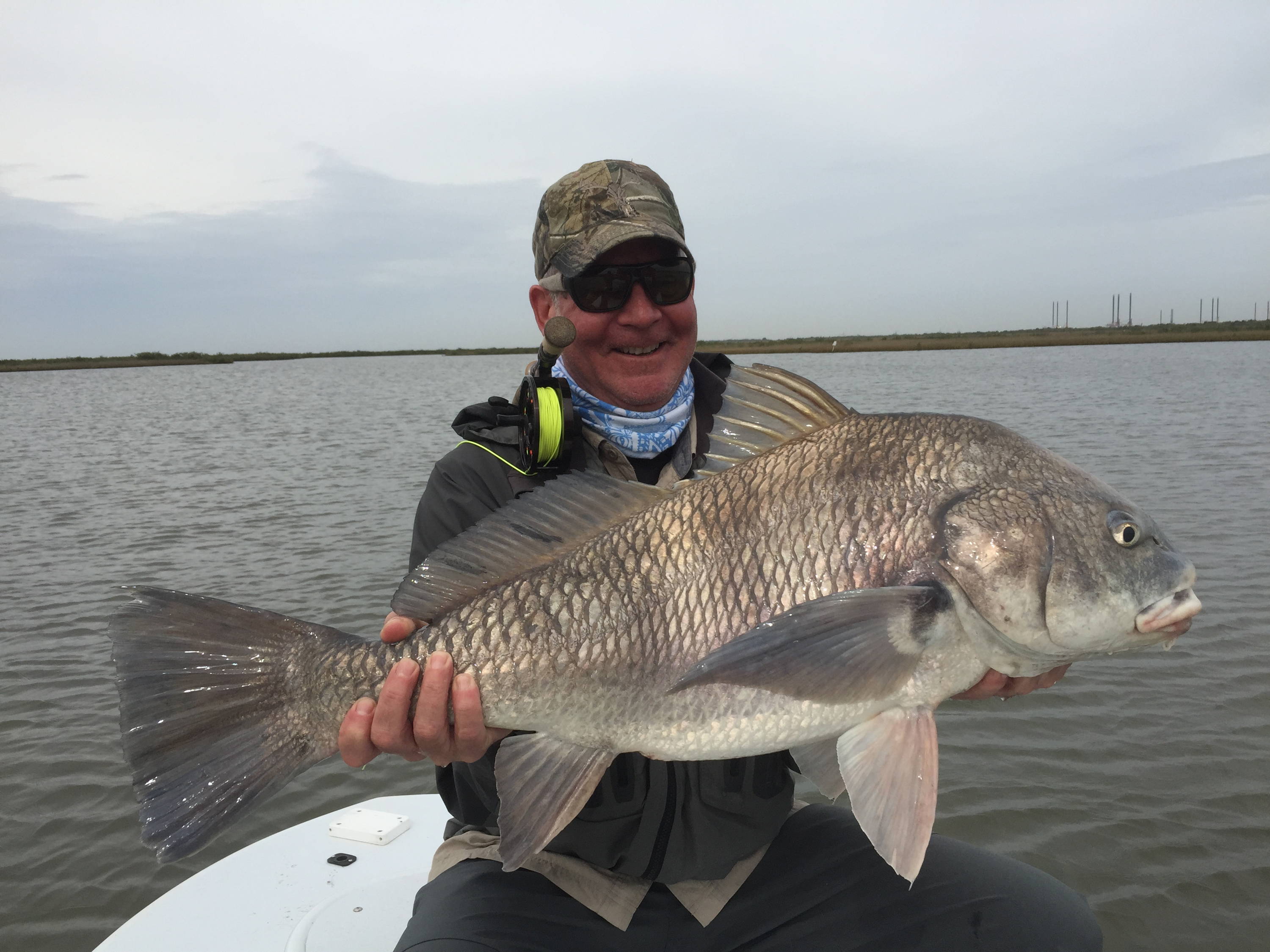 The large black drum are often referred to a "big uglies". What they lack in sexiness they make up for in weight and strength. It is a heavy weight match when you hook one. There won't be any long sizzling runs, more likely short powerful "walks" and a refusal to give in. These fish will typically be loners found nosing around and tailing over a soft mud bottom. Most are around 20 - 30 lbs, but fish well over 40 are not uncommon. The largest caught from my skiff was around 55 lbs. If they're feeding they'll be tailing, often sticking their huge tail completely out of the water. Tailing drum are not very skittish and will let you get really close. Large, dark and fluffy flies tied
with fairly heavy dumbbell lead will get you bit. But the fly must be on the bottom and right in their face. Most often they're hunting crabs so strip it really slow.
The goofiest and most frustrating fish on our flats is the sheepshead. They are notoriously picky eaters and have earned the nickname "Texas permit". Wherever we find redfish we'll find sheepshead. Their black and silver vertical striping makes them very easy to spot and accounts for their other nickname, the convict fish. Sheepshead on the flats will be found feeding around oyster reefs, hard structure or right up against the cord grass shorelines. When presented with a fly they usually respond in one of two ways, with curiosity or total terror. Even the curious response is often followed by a terrified fish fleeing the flat. They're just plain weird, but the challenge is something many fly anglers love about them.
Again, I use small dark flies made of rabbit fur. I'm currently working with a local fly company, Sight Cast Fishing Co., to produce my Convict Killer designed for sheepshead. Over the years I've come up with a method that works on them…sometimes. I look for a fish that is actively working the cord grass looking for shrimp or crabs. Once spotted, cast the fly a foot or so in front of it right into the edge of the flooded grass. If the response is a rush towards the fly, immediately take it away with a backcast. Don't let him get a good look at it. They'll then start to frantically search for the fly. Now drop it right back on his nose. You'll either get an aggressive eat or he'll change zip codes. There isn't much in between. I've tried everything on sheepies and this has been the highest percentage technique.
Pictured Right (Below on mobile devices): Client with Sheepshead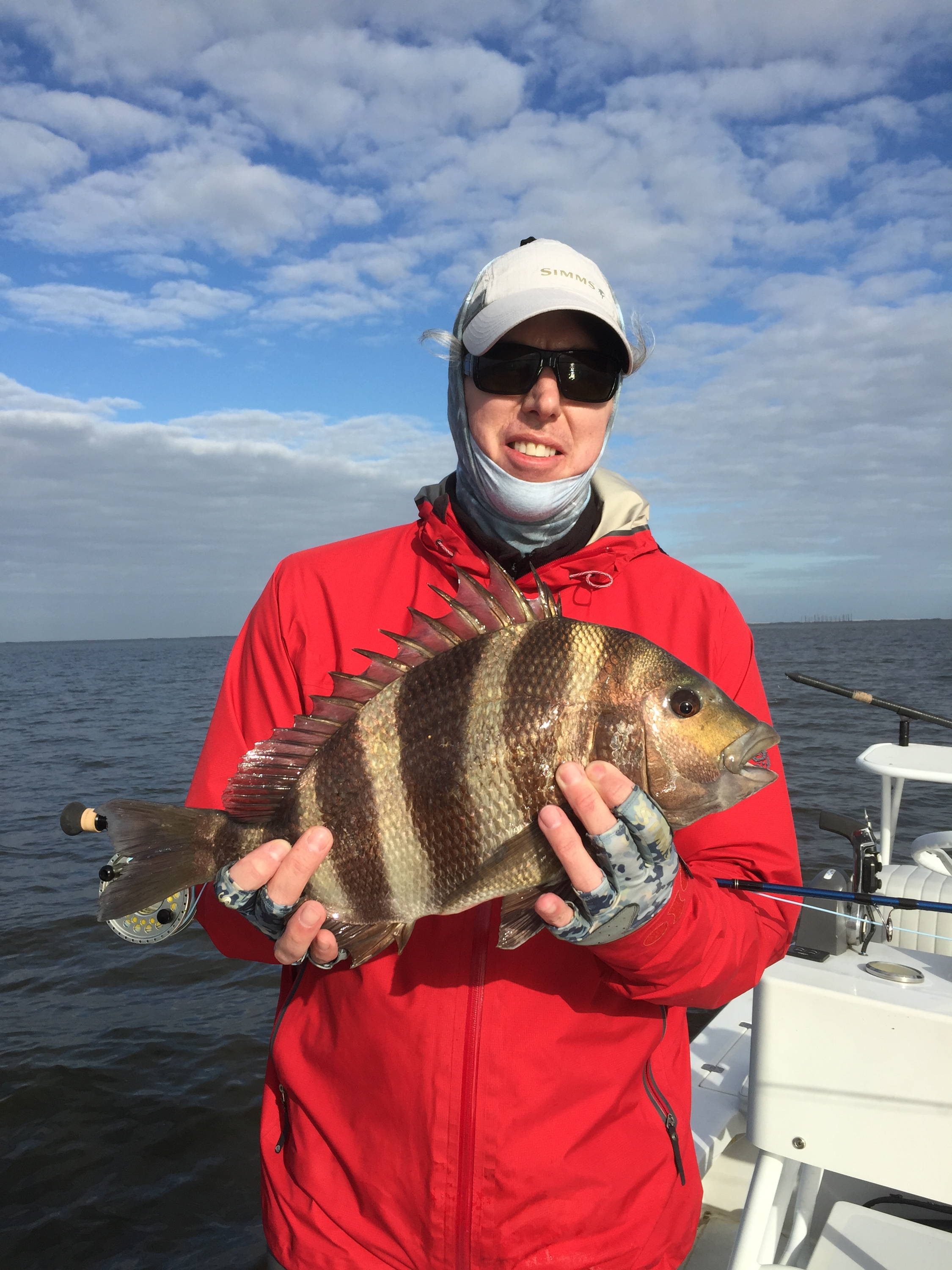 So what's different about those other four months? Well it's really hot in the shallows leading to somewhat lethargic reds, it's summertime crowded on the flats and I'm honestly a little bit tired of doing the same thing every day. But most importantly, there are tarpon…along with kings, cobia, jack crevalle, tripletail, dolphin, bonito and Spanish mackerel to be had. All of these can be sight casting targets in our nearshore waters June through September and even in to October.
I'll gear up with everything from a 6 wt paired with a Hatch 5+ for Spanish mackerel on up to a beefy 12 wt with a Hatch 11+ and plenty of backing. My flies are mostly baitfish patterns in a wide variety of sizes and colors to match the hatch. An intermediate sinking line gets the most use, but it doesn't hurt to have floating and full sink lines available. Oh yeah, you'll also need steel leader for some of these critters.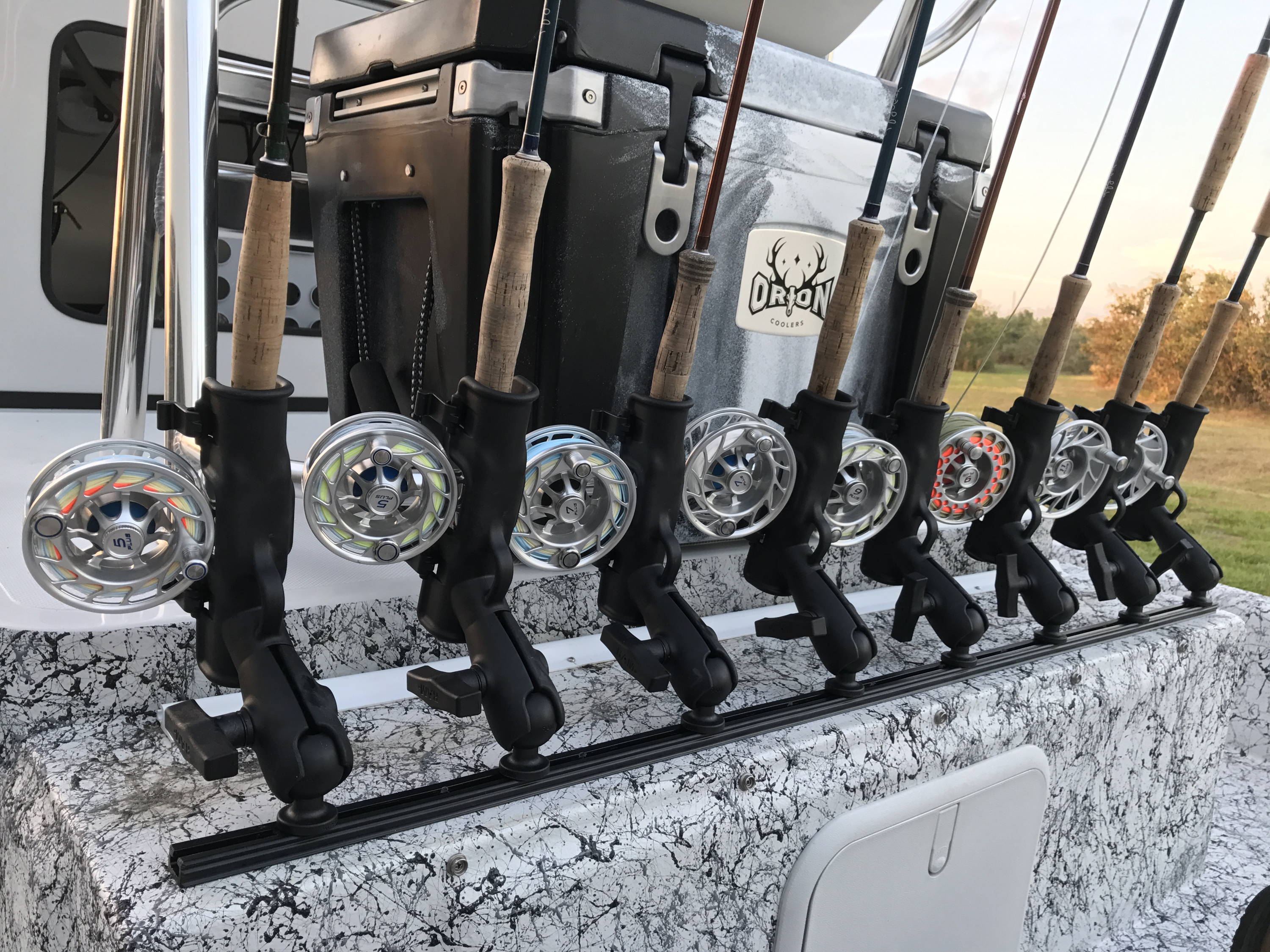 Personally I'm pretty conservative when planning a day on the beachfront. For chasing tarpon I want it as flat as possible with predicted seas of less that two feet at 6+ seconds. I can easily handle rougher water in my Dargel Kat, but it becomes more difficult to locate rolling fish and schools of bait. When the morning dawns mirror flat you can bet I'll be cruising the beachfront on the hunt for those silver flashes. Sight casting flies to schools of feeding tarpon is about as exciting as it gets. I've had seasoned anglers completely forget how to cast the first time a school erupts a few yards from the bow. I truly enjoy showing customers a sight they've never witnessed.
The problem with our coast is that even when you get those mirror flat mornings chances are good that by early afternoon the winds will be picking up. Once that wind chop gets going it becomes much more difficult to locate and stay on the schools of tarpon. At this point you've still got a some options. You can keep grinding and do more blind casting using your electronics to locate suspended fish, get in the protected water along the jetties or switch gears and look for other targets.
Unless the tarpon have been really going off I'll opt for looking at alternatives. Weed lines, color changes, oil rigs, shrimp boats and bait balls are all good options. Basically our nearshore waters are fairly featureless. There are a few wrecks and manmade reefs but overall it's pretty flat and those structures don't necessarily offer up targets for the sight casting situations I prefer.
While searching the beachfront for tarpon I'll keep an eye on the offshore horizon looking for birds working or maybe an anchored shrimp boat making note of the locations. If the tarpon aren't cooperating and the crew gets restless for some action I can head towards these easily seen targets. An anchored shrimper culling their catch is the golden ticket. Anything and everything that eats a bait can be found chowing on the easy meal. Chunk a big fluffy fly and let it settle with the chum. That's as close to a sure thing as there is in fishing.
Bait balls with working birds are also a high percentage play. Work the outer edges and watch for predators flashing through the bait. Try to match the fly or lure to the baitfish in shape and size. Generally this situation will lead to catching kings, Spanish mackerel, bonita and sharks. It can get a little crazy around these bait balls with kings and sharks breaching the surface by several feet in pursuit of a meal.
While cruising around looking for birds or shrimpers I'm going to be looking for a solid weed line. Sargasso weed will gather along the current rips attracting all sorts of baitfish. If the weeds look right and have bait I'll either slowly idle or drop the trolling motor to ease along searching for predators. Cobia, tripletail and small mahi are the most common targets.
If all else fails, there's always the option of chumming. An anchored shrimper no longer culling, an oil rig or even some sort of known bottom structure are all good locations. The trick to chumming is to put enough out to draw some predators, yet not so much that you're feeding them. You want them excited and hunting when you drop the fly or lure in their face. Too much chum in the water can sometimes make them picky about falling for a fake.
If any of this sounds like something you'd like to try, give me a shout. I'm based out of Port O'Connor on the middle Texas coast. We have miles of shoreline for poling and the Gulf of Mexico is just a short run through the jetties.      
Get to know more about Capt. Scott Null: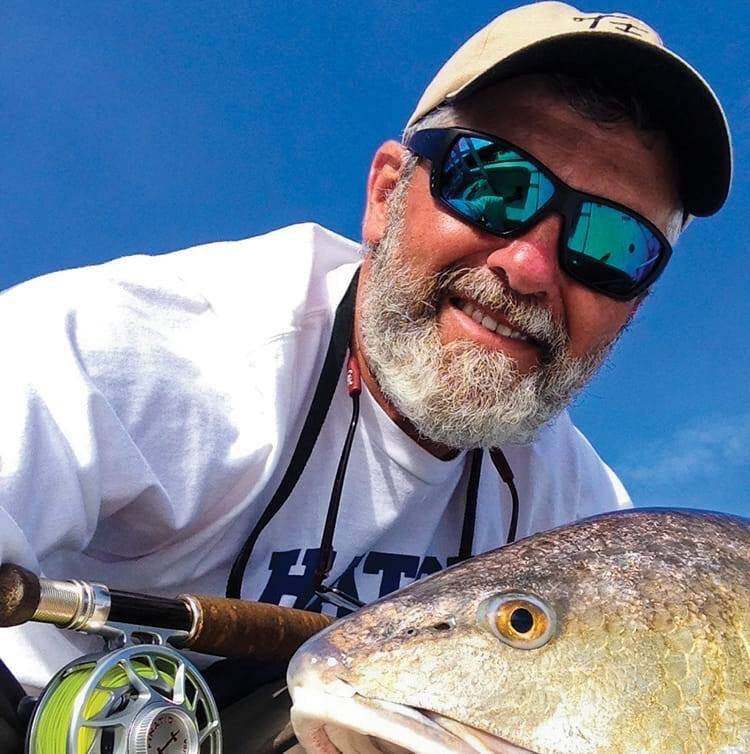 Captain Scott Null has been guiding the Texas coast for the past fifteen years, both fly and conventional. His specialties are redfish and tarpon, but he's willing to chase anything that will eat a fly. In addition to guiding, Scott also writes a monthly article for Texas Saltwater Fishing Magazine and co-hosts a popular podcast, Bite Me - A Saltwater Fishing Podcast. He can be contacted at captscottnull@gmail.com.
---
2 comments
---
---